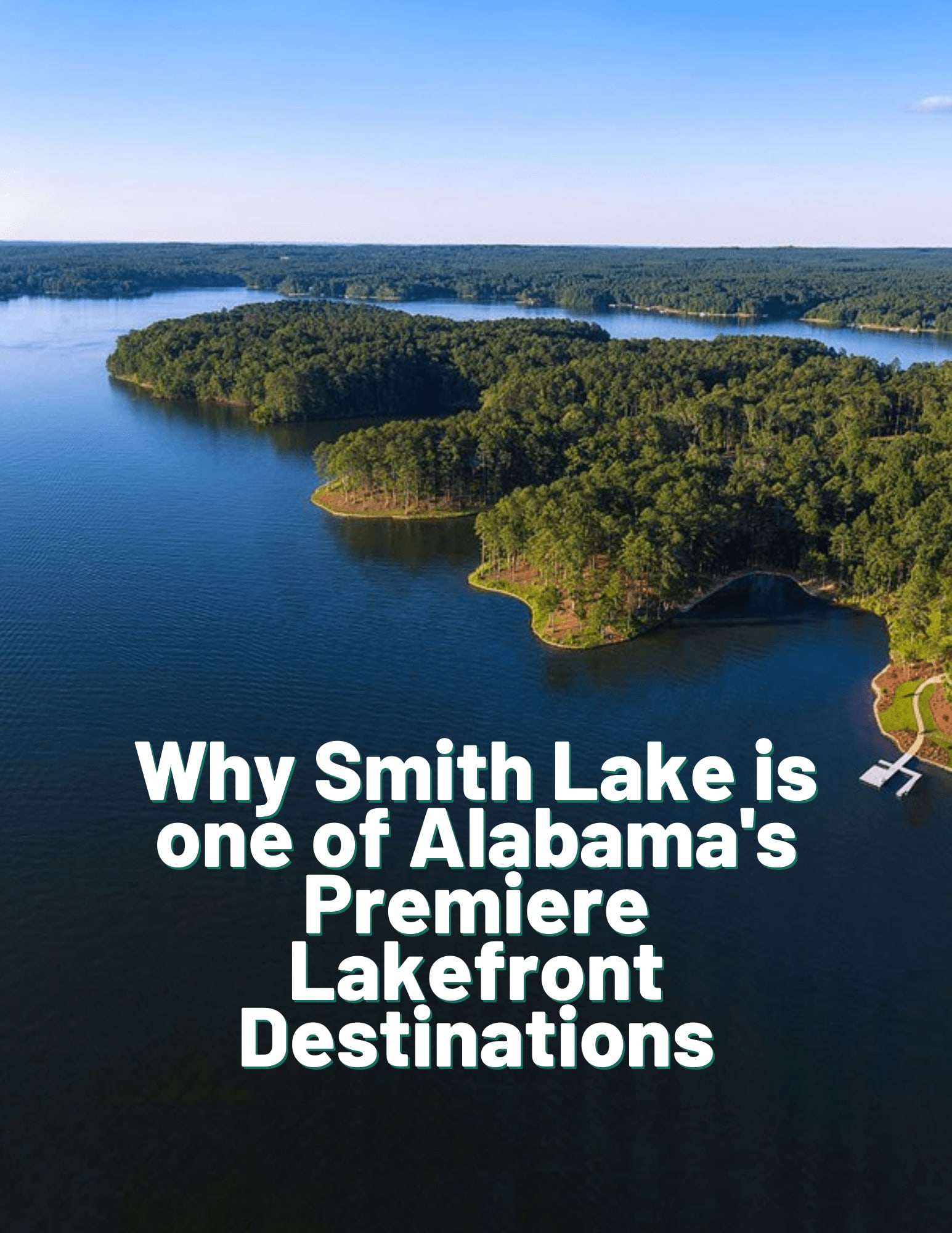 As a lake expert, I have visited countless lakes across the United States and have seen firsthand the benefits of owning real estate near a beautiful and thriving lake. One of the lakes that I always recommend as a great real estate investment is Smith Lake, located in Cullman County, Alabama.
Smith Lake
, while not the largest lake in the state, covering over 21,000 acres and with over 500 miles of shoreline is the deepest and clearest. The lake is known for its clear blue water and stunning rock formations, making it a popular destination for boating, fishing, and swimming. But what really sets Smith Lake apart as a real estate investment is the community that has developed around the lake.
One of the biggest draws to Smith Lake is the abundance of marinas located on its shores. Marinas are a crucial amenity for lakefront property owners, as they provide a place to store boats and access the water. Smith Lake has a variety of marinas that cater to different needs and budgets. For example, Duncan Bridge Marina is a full-service marina with a ship store, gas dock, and boat rentals, while Trident Marina offers dry storage and wet slips with a clubhouse and pool for members. Having a selection of marinas in the area not only gives property owners options but also increases the likelihood of attracting renters and visitors.
In addition to marinas, Smith Lake also has a great selection of local restaurants and attractions. For example, Ryan Creek Marina is home to a popular restaurant, "The Docks", which serves delicious seafood and southern-inspired dishes with an unbeatable view of the lake. Having fished tournaments there, I can tell you that it's a weird feeling to cast your lure into three feet of water while your boat floats in 80 feet!
Another factor that makes Smith Lake a great real estate investment is the diverse selection of properties available. From cozy cabins to grand waterfront estates, there is a property for every budget and lifestyle. And with the lake's growing popularity, the demand for lakefront properties is only increasing, making it a wise investment for those looking to build wealth through real estate.
But it's not just the amenities and property selection that make Smith Lake a great investment. The lake's location in northern Alabama also plays a role in its attractiveness to potential buyers. The area has a low cost of living compared to other regions of the country, with affordable housing and a lower tax burden. This makes it an appealing location for those looking to retire or relocate to a more rural setting without sacrificing access to recreational opportunities.
Furthermore, the location of Smith Lake is also advantageous for those looking to commute to larger cities. The lake is located just over an hour from Birmingham, Alabama's largest city, and two hours from Nashville, Tennessee. This makes it an ideal location for those who work in the city but want to come home to a peaceful and beautiful setting.
Lastly, the local community is another reason why Smith Lake is a great real estate investment. The people who live around the lake are welcoming and friendly, and there is a strong sense of community. This is reflected in the numerous events that take place around the lake throughout the year, from fishing tournaments to holiday celebrations. Being part of a vibrant and active community adds value to a property and makes it a more enjoyable place to live.
In conclusion, Smith Lake is a great real estate investment for many reasons. Its abundance of marinas, local restaurants, and attractions makes it an attractive location for visitors and renters. The diverse selection of properties and its location in northern Alabama make it an affordable and accessible option for those looking to build wealth through real estate. And the strong sense of community only adds to the overall value of owning property near Smith Lake. If you're considering investing in lakefront property, I highly recommend taking a closer look.